Art Commissions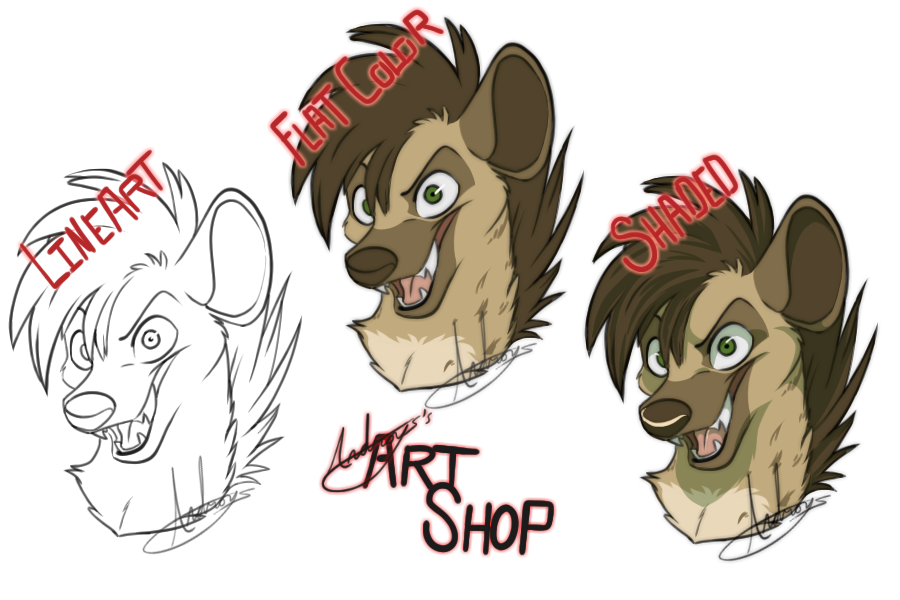 ---
Welcome to my Art Shop!I haven't taken on commissions in a while, so seriously, if you'd like to tell me something or point out a flaw, do NOT hesitate to DM me. All prices are rough estimates. Extra details will cost more since time for me is limited. I'm an extremely busy college student, so expect me to take two or more weeks to complete your commission!
---
---
What I WILL draw:
- Felines and canines of all sorts
- Horses/Unicorns
- Most reptiles and amphibians
- Warrior Cat Sonas
- Most OCs
- Most Mammals
- Some Closed Species (not lines for a new one)
- Ask me if you don't see what you're looking for.
What I WILL NOT draw:
- Humans/Humanoids
- Furries/Anthropomorphics
- Dragons
- Full clothing (scarves, gloves, and simple things are okay.)
- NSFW/Fettishes
- Overly gory/bloody imagery
- Anime
- Most Fandoms/Fan Sonas
- If I do not feel comfortable drawing I will tell you up front. Not open to discussion.
Terms of Service
---
Please read this entire page to proceed. Most the information you need is right here!
---
---
Section One: Display and Useage
- You are free to display my art on other web pages, so long as you credit me by using my Toyhouse account (Androys).
- Do not remove my signature. The put my signature on all of my work to prevent theft. If it is removed, chance of art theft is higher.
- Under no circumstances are you allowed to edit, crop, or alter my art in any way. Cropping may be used when using my art as an icon or avatar on any site, but credit must be given either in the signature, or elsewhere visible.
- My art is not for commercial use. Please do not reproduce my art in any way. Printing for yourself (non-profit only) is allowed.
- Do not "trade" my art to anyone for any currency or payment. I made said art specifically for you, so be respectful of that. My art is not a currency or an item for trade. If any person wishes to obtain art created by me, please direct them to this site.
- Do not trace or allow others to trace, copy, reproduce, heavily reference or steal my art.
- Do not steal or claim my work as your own. Not only is plagiarism is illegal, but it is a great display of how low you are in society. Be good to me, and yourself, and show some respect.
Section Two: Timing
- I generally live a fairly busy life. Commission work is not the only work that I do, so please be mindful of that. My daily life consists of heavy collage work, my job, volunteer work, and other life obstacles.
- Please allow 2-4 weeks for your commission to be finished. Art takes time and life can get in the way.
- If you have not heard from me after 4 weeks of your payment, please contact me.
- Do not contact me asking when your art will be finished. I may have other commissions ordered ahead of yours that need to be finished first. Please don't rush me.
Section Three: Pricing
- My pricing is subject to change at any time as a result of time supply and art demand. My prices can and will change at random and with possibly little to no warning. Art purchased or discussed ahead of price changes will not require you to play a different price. The price of your commission will not be altered and will remain the same price as it was at the time your form was filled out.
- Do not ask me to lower my prices. It is considered rude to any artist who is trying to make a wage off of their art to ask then to lower their prices. My art is taken very seriously. Just because I enjoy creating and benefit from it in my own way does not mean that it should be free. I am untimely still working for you when I create your piece and deserve to be paid for it.
- Do not offer to trade me in-game currencies, characters, MYOs, customs, art, gift cards, or items other than real-world currencies (USD) for my art. If I am looking for one of the listed, I will make my search be known and include my offer for said items.
- I do not allow refunds after I've started your piece, of if you are unhappy with the results. Keep in mind that as an artist, is reserve the right to draw things the way that I see them and in my style. This is what you are paying for.
- If you have an issue with my pricing for any reason, please contact me with your complaint. It is advised that you are respectful and keep in mind the amount of work that I do. Being an artist isn't "easy".
Section Four: Ordering
- Orders are not limited to one per person. I will take up to three (3) orders per slot!
- Order forms can be sent via ChickenSmoothie (Androys), or Toyhouse (Androys).
- You will not be charged until I finish the pieces ahead of your slot. When I get to your slot, I will contact you as well as send you an invoice via Paypal. I will not begin your piece until I receive the transaction. You will be notified.
- Please do not make an order when commissions are closed.
- When making an order, be sure that you have the payment on hand.
- Please be mindful that there are often times orders behind you, as well as only three (3) slots. Sending an order and claiming a slot just to back out later is considered rude.
Section Five: My Rights
- I reserve the right to post work that I have done for you on this site and other sites as an example of my abilities. Please note that I will credit the character as yours and have no intention of stealing or using your character in any way.
- I, under no circumstances, will use your piece for commercial use, only as an example.
- If you are uncomfortable with me mentioning you or posting the art that I have done with you (on this site or other sites), please contact me or notify me in your order form.
- My style has the ability to change or improve. Please keep this in mine when ordering so as to not hold certain expectations.
- All art contains a signature. Do not ask me to remove it.
- If I am unable to complete your order due to technical issues, I will refund you in full.
- I reserve the right to decline an order if I am not comfortable with it or I do not feel that I can meet the expectations. Always be prepared for a decline.
- I am careful to make sure that each piece looks its best. For each piece, I have the ability to make artistic decisions based on composition and colors.
- I am partially colorblind. If I miss a color or marking on your character, this is why. In some instances I may slightly change the hue/saturation/lightness of your character so that I can better see the patterns. Please do not hold this against me.
Section Six: Lineart
- You are free to color the lineart yourself. That's what they're for.
- Only you are allowed to use the lineart, so rest assured, no one else will.
- Under no circumstances are you allowed to sell/"trade" the lineart.
- You are free to share the line art with friends and family under the conditions that (1) you do not profit, (2) they do not profit, (3) my signature is not removed, and (4) I am properly credited.
- Purchased lineart can be used to sell designs/adoptables for items, trades, real-life and in-game currencies, so long as you are not selling the lineart itself. Be sure to credit me during your sales and that the buyer credits me as well.
- Linearts can be slightly edited to help fit your designs' needs- I just ask that you keep my signature and be sure to credit me. Do not sell the lineart simply because you have altered it.
Section Seven: Customs
- Do not "flip my" designs and resell them.
- Do not resell my designs for more than you paid.
- The owner of my designs must always credit me when said design is present.
- The design shall never be used for commercial use unless otherwise stated. Please contact me if you plan on using a design for commercial purposes.
- Credit me by using my Toyhouse account (Androys) if you choose to post the design.
- All owners and users of my designs are bound to these terms.
Slots
---
Note that there are only three (0) slot at this time. Commissions are currently CLOSED.
---
---
Place Holder for Name @ Site

Place Holder for Name @ Site

Place Holder for Name @ Site
Order Forms
---
Please choose one of the following to fill out. When you are ready, simply choose a method to contact me by. Remember to check whether or not all of the slots are filled.
---
---
Commission Form:
Can also be filled out here for quicker response.
Contact Information: (ChickenSmoothie Username/Discord Username/Toyhouse Username)
Species:
Art Type: (ex. shaded, fullbody)
Expression + Pose: (must be filled out, do not reply with "whatever you're comfortable with")
Character Reference(s):
Additional Information:
---
Custom Form:
Contact Information: (ChickenSmoothie Username/Discord Username/Toyhouse Username)
Species:
Gender:
Palette:
Personality/traits/extra info:
Accessories: (keep it to a minimum, please)
Additional Information:
Pinglist
---
Contact me to receive messages on my next openings! I will continue to ping you until you have had a chance to make a purchase or you request to be removed. Anyone who makes a purchase will automatically be removed unless requested otherwise. Please note that joining the pinglist does not automatically guarantee you a slot.
---
---
ChickenSmoothie Users
- RagingRabies
- Sin Tsukino
- -Phantom-
- Corals Art Studio
- Thelastsilhouette
- loucette
- Taxidea
- Rosesguts
Discord Users
- NONE
Twitter Users
- NONE
Toyhouse Users
- NONE
FAQ
---
Read this before asking a question, you might find the answer! Don't see it? Feel free to ask and I'll post it here to help others with the same questions.
---
---
"You drew me a lineart, but would you mind if I colored it myself?"
Not at all! You have already been added to the lineart so that you can edit it whenever you'd like. Each layer is named for easy access, so it's all ready for you to color.
---
"would you be open to drawing an anthro character if it's just a headshot/bust?"
It's difficult to give you a straight forward answer, so you should probably contact me via PM or post letting me know what your character looks like (include a picture). Assuming that the only difference between your character and a feral character is that they stand on their back legs, wear clothing, have hands and more human-y shoulders, it should probably be fine, as I am only drawing from the shoulders up! The only reason I don't draw anthro characters for other people is because I'm not that good at the anatomy yet and many people who have anthro characters are hugely specific on certain body parts. In short, I will consider doing a bust of your anthro character.
Contact Information
---
Here is a gathered list of all my contact information. The list is in order from most to least preferred method of contact, but all of them are acceptable! Once you have copied one of my two forms, please fill it out and send it to me via preferred method. From there we will discuss further details. Please note that if you chose to contact me via CS, I will still need to contact you through other means come payment time. Thank you!
---
---
Archives
---
Here is a collection of past works that I have done for others. The images will change based on my current style and recent art.
---
---